Mobility Market to Bolster Leasing and Rental Trends in Latin America
Fleet management companies administer 600,000 vehicles in Latin-America. Local Rentacar companies compete against international lessor alliances from the US or Europe. The traditional model, developed a long time ago with integrated garages for the mining and distribution industries, is being challenged. Meanwhile, Uber's success and that of other hailing or car sharing platforms in the sub-continent push for a quick transformation toward mobility solutions.
A promising market
In Latin America, the automotive market grew 7% in 2017, driven by an excellent performance in Argentina (+28%), Brazil (+9%) and Chile (+18%), reaching a total of 6.2 million registrations. Almost 90% of registrations came from Brazil (>2 million), Mexico (1.5 million), Argentina (.9 million), Chile, Colombia and Peru.
At the Lisbon conference, Michael Gergen, from Dataforce, presented some interesting figures to quantify the corporate market in Latin America and compared it to other regions. In Europe, corporate registrations represent 55% of total registrations (15.6 million in 2017), compared to 23% in the top three Latin American countries (30% in Brazil, 20% in Colombia and 12% in Argentina). While there isn't yet a consolidated analysis of the region, corporate registrations are likely to represent at least 20% of all registrations in Latin America, as Brazil, Argentina and Colombia represent over 50% of this market. Also, 20% is the size of the corporate market in the USA, which is dominated by the private market.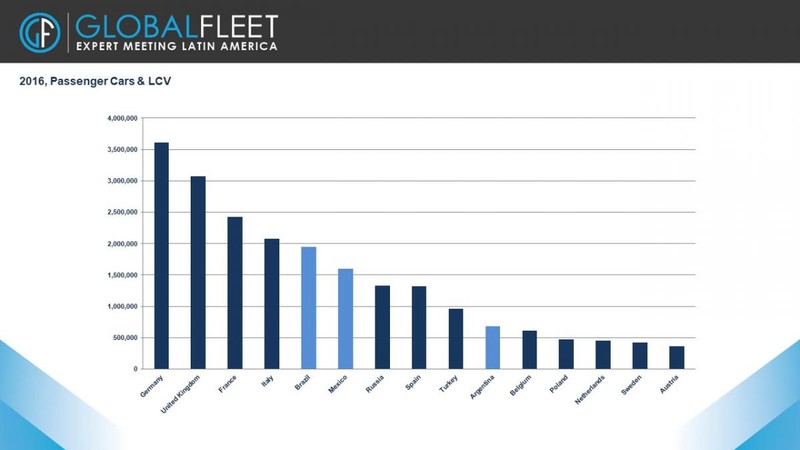 Fleet Latam surveyed leasing companies for the Lisbon conference and managed to estimate 180,000 fleet management contracts were signed in 2017. This represents approximately 2.9 % of new registrations and 15% of the corporate market (excluding daily rental business). As a reference, the percentage of rented cars is around 7% in Europe (over 1 million for a total market of 15.6 million in 2017) and less in the USA (for a total market of 17.1 million in 2017). This data reveals the fleet market is already significant and also has great potential for growth in Latin America.
From short term to full-service leasing and fleet management
Local leasing companies like Localiza in Brazil started operations 40 years ago, mainly as short-term operators, and entered full service leasing to serve the corporate market demand. As of today Localiza owns close to 200,000 cars for both short-term and fleet management. As most local rental companies, they continue to manage both products, sometimes via a franchise agreement with an international Rentacar like Avis, Hertz or Europcar.
In Chile, fleet management started as a captive activity in the mining and fishing activities. Hertz, Europcar and Relsa (who entered in a JV with Arval) have their own garages to serve specialised fleets far away from Santiago. In Mexico, big companies in the food and telecom industries have their own captives to manage very large service fleets (mainly small vans) and own garages. This is a complex activity, especially since it doesn't tend to be part of these companies' core business. In addition, this model is being challenged:
Is it worth for the captive or leasing company to have its own garages? Is it worth for a company to operate with its own captive rather to outsource its fleet? In the last 10 years, Arval, Leaseplan and ALD, three major european companies, landed in Brazil and Mexico (Arval just entered Brazil), and started to compete with their own models. GE and ARI started a bit earlier in Mexico to offer North American coverage. Those new models have started to compete with local heroes and contributed to their rapid evolution.
In the last three years, ALD opened in Chile, Peru and Colombia. Arval merged with Relsa to cover Chile and Peru. All international leasing companies extended their offer through partnerships with local operators in most of the continent. ALD/Wheels covers central-America with Arrend and Argentina with Autocorp. Arval/Element covers Argentina with RDA and Peru and Equator with Mareauto.
It is now possible to organize tenders and benchmark leasing offers in most significant markets in Latin America.
From fleet management to mobility requirements
Moving from fleet management to mobility could be a fast transition. Most big cities are facing contamination issues and have started to regulate traffic. In Mexico City, during a spike in air pollution, certain vehicles were banned from circulating up to 40% of the time last year. Fleet managers have had to look for new solutions. Leasing companies have started offering hybrid or electric cars.
Like Mexico, Sao Paulo and other big cities are suffering from terrible traffic jams and poor collective transportation, whether public (trains and metros) or private (buses). Traditional taxis (mostly collective) tend to be viewed as dangerous. This could explain the rapid success of Uber (between 70 and 80% of the hailing market in Mexico, Brazil, Argentina, Peru, Chile and Colombia) and other newcomers (Cabify, Easy taxi, 99 recently bought by Didi Chuxing). The use of these platforms will certainly increase, as a supplement to company cars, as businesses seek to better support employee mobility. At the same time, they offer a new segment for leasing companies, as drivers seek to finance the vehicles.
Car-sharing solutions are flourishing, supported by corporates willing to organize their employees' transportation. This trend will also likely boost fleet management activity. Winners in this segment will increasingly include private solutions, as well as manufacturers and financing players that are able to adapt to this change in demand.